Nissan Micra/March k11 performance!
Established in 1999 when a few hardcore micra owners came together to share their passion, cisco's micra files is now home to 4555 members. Dedicated to the Nissan Micra/March, CMF is the world's original, friendliest Nissan Micra/March community.
Contribute to hardcore micra-related discussion in our Technical Forums.
Welcome to our most recent member: Nizzpro!
Join the community or Login here
---
The world's friendliest Micra/March community

There are currently no scheduled events.

View and schedule events..
---
Australia's most powerful micra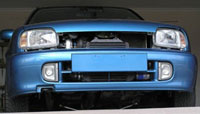 The car was purchased in basic turbocharged form in early 2003. I picked the car up for a bargain price, however the quality of the turbocharger conversion left a lot to be desired. Prior to its turbocharger conversion, the original owner had the car featured in Fast Fours magazine due to it making a claimed 70kw at the wheels from a set of 4-1 extractors combined with a basic pod filter cold air intake duct.
I had plans for a whole pile of upgrades and improvements and so got to work on getting the car exactly how I wanted it to be setup.
---
"MICRA" March Owners Club Annual MTG. Kanagawa, Japan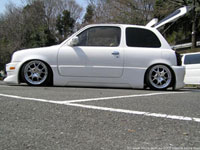 On Sunday April 3 2005, I went to micra heaven. This was the Annual meeting of Japan's most prominent micra club, "MICRA" March owners club.
The range of cars and modifications was out of this world. My camera's large memory card filled up very very quickly. I was overloaded, I didn't know which car to photograph first or which order to circle in. It was a very distressing situation to be in! Any one of the cars that showed up was amazing, but there were so many that you didn't really get a chance to pay detailed attention to each particular car. The people were absolutely fantastic, they were the highlight of the meet even more than the cars - must be bloody awesome people then hey? Spot on.
Anyway, Hyper REV magazine interviewed me and they took some photos and stuff which may or may not appear in their upcoming June k11/k12 combined dedicated issue. Also a massive thanks to YUSU san among many others for making this day possible.
---