Melbourne 2004 dyno day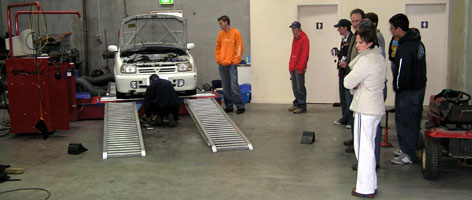 On the Monday following the July Melbourne micra meet, we headed off to EFI Dynamics where owner/manager Error Taube was kind enough to squeeze us all in for a quick micra dyno shootout.
EFI dynamics is where the high powered "REVERB" k11 micra was built.
Everyone was pretty keen to see what their k11 was putting out. Most of the cars carried relatively mild modifications, although supercharged White Knight was fired up to take the throne with its impressive workmanship. The main purpose for White Knight's visit was for analysis purposes - not a power readout. It took Errol about 2 minutes to give the verdict of "She's running dangerously lean mate, it needs the fuel system upgraded otherwise you could destroy a piston". There was some disappointment amongst the group in not seeing the supercharged grunter perform, however it was definately for the best and would only make it a better (and safer) result when White Knight returned!!
Thanks to Mipcar aswell who rocked up at EFI Dynamics 2 days later to give his unmodified k11 a run. It gave the group a good benchmark to go off because all the other cars had been modified somewhat.
Congats to Trev for taking out the title on the day.
Results
No clip available

6th: Mipcar
Peak power: 44kW

Mods
100% standard.

5th: Brendon
Peak power: 51kW

Mods
2" exhaust
4-2-1 extractors
Cold air intake
195/50/15 tyres

4th: GeoffW
Peak power: 52.1kW

Mods
2" exhaust

3rd: Matthious
Peak power: 54.3kW

Mods
2" exhaust
4-1 extractors
Cold air intake

2nd: s-shortcake
Peak power: 56.6kW

Mods
2" exhaust
4-2-1 extractors
Cold air intake
adjustable fuel regulator

1st: Trev
Peak power: 59.0kW

Mods
2" exhaust
4-1 extractors
Cold air intake
Lightweight flywheel
Analysis/Observations
4-2-1 vs. 4-1 extractors
Although every engine is different and its not that useful to compare outright figures between cars with very similar modifications, the trends and patterns which show up in the shape of graphs is something that certainly can be very useful to analyse.
It was very interesting to note that the cars with 4-1 extractors (Trev and matthious) had the following characteristics in their torque curves:
Strong low down torque right from idle
Strong top end torque. But note the peak torque at the top end still didn't match the torque these cars produced at very low rpm.
A dip in torque in the mid range. This is usually where the soccer mums like their torque to be as they you spend the majority of your time at these rpms. However, if you drive fast in the top end rev range of the engine then the 4-1 extractors have proven the benefits they bring. Horses for courses.
In contrast, the cars with 4-2-1 extractors (Brendon, S-shortcake) showed considerably different characteristics:
A very flat and consistent torque curve right through the rev range (great for soccer mums).
A peak in torque pretty much spot on in the middle of the mid range, although this peak wasn't that much more torque than the engine produced everywhere else through the rev range.
Hopefully you can use this analysis to determine which extractors you feel are right for you, I would say:
If you want strong pulling power all round, especially in the midrange which might be good for exiting corners or when you get caught off guard in the wrong gear, go 4-2-1.
If you want outright top end power (with low end torque to boot) and are happy to forego some amount of midrange pulling power then 4-1 is for you. If you spend most of your time revving your micra to the hilt, then I would go with 4-1 as they clearly give a very substantial surge of torque in this top end range.
lightweight flywheel
Although S-shortcake was equipped with an adjustable fuel regulator to lift the entire fuel map after the installation of extractors and the cold air intake, Trev's micra still managed to generate an extra 2.4kw @ the wheels over s-shortcake.
This is no doubt attributed to the lightweight flywheel that ha had installed. Also, without the adjustable fuel regulator, s-shortcake was making less power and would have come in somewhere around Matthious' 54.3kw effort. Matthious' micra is a better car to compare to Trev's because they have similar modifications - yet the power difference is 4.7kw. I think you could attribute pretty much all of that almost 5kw to the lightweight flywheel. I think they do offer a substantial improvement to performance and are a great modification to perform during your next clutch change.
On the street driving back from EFI Dynamics, in the midrange going hard, S-shortcake and Trev were very close to spot on equal. We had two people in the car, but at that rev range, s-shortcake was generating a fraction more torque. But as soon as we hit the top end, Trev was consistently up our tail with the power to pass. It was actually quite noticable in real life and a lot of this theory work looking at dyno graphs definately does equate to having a quicker car on the street if you do the right mods.
Huuuuuge wheels
Brendon had one very nice set of wheels on the day. They looked great, but they brought a downside. Notice his car had similar modifications to matthious and s-shortcake however he generated a substantially lower 51.0kw. This was attributed to the larger overall wheel/tyre combo diameter. On the road as well the car was that little bit slower than the others, and these were only 15" rims with 195/50 tyres. Basically, Brendon's torque curve was the same shape as s-shortcakes, however lower at every point in the rev range by a fixed offset pretty much. Had we have put s-shortcake's 13" wheels on Brendon's car I'm sure he would have been making around the same peak power as Matthious. Micras with visually attractive 17" rims are dead slow on the street - it kills them. So you really need to consider the compromise between looks and performance when selecting the right wheels for your car.