2005 CMF Micra Celebration meet - Canberra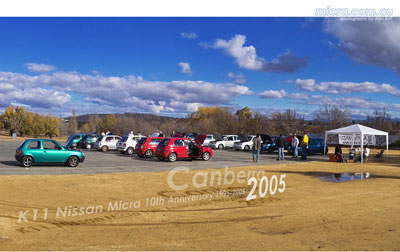 2005 saw CMF's largest and most successful dedicated micra meeting EVER! WOW what a blast!!!
This meet was held to celebrate 10 years since the k11 was first released in Australia and the 1000 member milestone for www.micra.com.au.
Spanning 3 days over the Queen's Birthday long weekend, we began with a Dyno day on the Saturday, then a huge open car display on Sunday, followed by a trip down to the snow on the Monday.
So many people travelled a very long way to make this such a special occasion - and later on photos of this event were published into the Japanese magazine "Compact Car Style".
Thanks to everyone who made this event so successful and so much fun!
Sam from redlinegti.com also took some great pics.
---
Dyno Saturday
Finally, Saturday of the June Queen's Birthday long weekend had arrived and the first CMF members started arriving in Canberra. We had organised a dyno day at Jake's Performance.
Unfortunately we had less cars than expected show up for this, but never the less it was still great fun.
Sam from redlinegti.com also showed up and gave his nice Ignis Sport a run. It was nice to see the VVT engine revving hard and punching out really strong figures for a factory small car.
| | | |
| --- | --- | --- |
| Sam's Ignis Sport: | Family Hack: | Bosito: |
| Let's check the results: | Mighty CG13DE: | |
Open Car Sunday
Open Car Sunday was the major event held over the long weekend. The whole idea was for all the cars and micra enthusiasts to assemble for half the day, while enjoying lunch simply to talk, talk and talk and admire the micras. We didn't want to be in and out or interrupted etc - it was pure dedicated time just for admiring and discussing each other's vehicles. We had the CMF marquee setup which was an official touch to the event. Delicious pre-packed healthy lunches were served from the marquee so that all of the attendees could concentrate on all the exciting cars rather than leaving to pickup take-away. There was a special atmosphere felt in the air and members of the public were walking past and checking out the cars in great detail. All members had special event name tags on so that everrone could easily identify each other - this worked very well.
An oversight on the organisation of the venue left Reverb in a tricky situation with his car unable to drive up onto the platform where all the cars were. After lots of stuffing around and some very helpful other members bringing in some large planks, Reverb was able to get his low beast up there for everyone to admire.
A large used parts give-away competition based on the Japanese version of scissor-paper-rock was held and proved to be very popular. Contestants had to play scissor-paper-rock against the competition host to win prizes. Prizes were mostly micra-related car parts sourced from the generosity of all the members bringing in spare items and little presents that they'd purchased as gifts or hunted around for. There were some really special, thoughtful ones too - some people went to a lot of effort and made nifty micra-related gifts. There were also some quite expensive and rare parts given away.
Later, the CMF crowned micra event was held. All attendees had to vote for their favourite micra. Reverb took out this competition being awarded the most popular micra for 2005. Well done Reverb.
Approximately 6 months later, I discovered that photographs of the meeting were published in the Japanese magazine Compact Car Style. A great effort!
| | | |
| --- | --- | --- |
| Main view of event: | 1280 x 1024: | 1600 x 1200: |
| Official banner: | Lots of micras: | Healthy lunch from the marquee: |
| Reverb Interior: | Family Hack and others: | Blue Monster and others: |
| Reverb: | Family Hack: | Reverb beached: |
| Reverb Engine: | Family hack and others: | Lots of bonnets popped: |
| Reverb flashy mirrors: | Hot swapping wheels: | Admiring Reverb: |
| Turbocharged Gareth: | Reverb Interior: | Fellow hot swappers: |
Snow Mission Monday
On the Monday, a few keen early starters made their way down to perisher for a play in the early snow.
| | | |
| --- | --- | --- |
| Check it out yoll yoll: | Seano going sick: | eM and Justin: |
To and From
Many of the CMF members travelled from far away to come to this meeting. It was a really special effort on so many peoples' parts to make the whole thing come together. There was a decent convoy of people who headed South from QLD, others travelled from Melbourne, Sydney and then there was Family Hack and family all the way from Tasmania.
As you would expect, some beautiful scenery was photographed along the way. Getting to a meet is always half the fun.
Members in attendance
WOW 14 Members. What an amazing achievement all in the same place at the same time. It really was a special event.
The mix of different cars, models and modifications was simply awesome. Here are those members who showed up on the Open day event.
| | | |
| --- | --- | --- |
| Reverb: | Alex B: | Cisco: |
| eM: | Gareth: | Mallie: |
| No_Jamming: | M5: | S-Shortcake: |
| Bosito: | Family Hack: | Makes: |
| Mighty CG13DE: | LWC: | |